Londra/Roma
Wooden/Steel Parasol with Four Sidearms
Frame: of first quality wood treated with friendly water ointment. Very resistant to uv sunrays and umidity,equipped with a crankhandle pulley system for an easy opening and closing. All metallic parts are of antricitecolour with epoxypowder coating, all screws are of steinless steel
Pole section 142×142 mm of wood – it is possible to get of steel at request – Arm section 92×92 mm of metal – Ribs section profile 20×40 mm of woodwith brass finishing and ribs joint with cotton protection, (ribs section profile of 18×36 mm for the parasol size 3×3) all ribs are changeable
Cover: 100% acrylic 350 grams by square meter,natural colour ecruantimould treated, with wind chemney, attention the volant version delivered is straight, at request and with overcharge it is possible to receive "wave or square angle" or totally without volant,joining textile between the two covers is included
At request coverof pvc,unit prices at request
Coloured: at request we can offer coloured covers with extra
Cover: overcharge
Packing: each parasol in single nylon sheath and strong carton box
Attention!! Before closing the parasol make sure the cover is dry in order to preventmold forming.
Additional charge for colored acrylic + 5%.
Pole section 142×142 mm. Interchangeable ribs section 20×40 mm, in 3,00×3,00 mt size ribs section 18×36 mm.
Galvanized steel pole section 150×150 mm. Interchangeable aluminum ribs with juction section 20×35 mm.
4,50×4,50 mt size is only available in painted steel and aluminum ribs section 20×35 mm.
LONDRA/ROMA
Item
Size
Weight kg.
Volume
0346
3,00 x 3,00
215
1,600
0348
3,50 x 3,50
240
1,600
0350
4,00 x 4,00(*)
250
1,600
0351
4,50 x 4,50
250
2,000
*  Size avaiable in painted steel and aliminum ribs section 20 x 35 mm.
N.B. for the size 4,50 x 4,50 there is this base: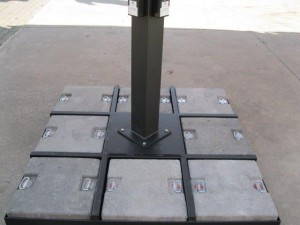 Size
A (cm)
B (cm)
C (cm)
Real dim.
N. counterweights
500×500
250
230
330
510 x 510
4
600×600
258
232
340
610 x 610
4
700×700
280
255
355
720 x 720
8
800×600
280
255
355
820 x 620
8
800×800
285
260
365
820 x 820
8
900×900
290
265
407
920 x 920
12